Programs On Overcoming Jealousy and Rebuilding Trust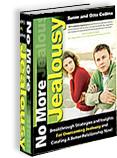 No More Jealousy
Learn  how to stop jealousy before it ruins your relationship. Get expert advice on how to handle the biggest jealousy issues that pop up in relationships like your partner's wandering eyes, dealing with a jealousy meltdown, how to find out if your partner's cheating or not, trusting again after infidelity, and much more.

---
Jealousy Coaching
Imagine how much quicker and easier you could move through your challenges that are keeping you from having the kind of relationship or marriage you really want if you worked with either Susie and Otto C

ollins
As your coach. Susie and Otto offer in-person or telephone coaching for couples, one person in the relationship or singles. This means that no matter where you live, you can still work with Susie or Otto personally to get your  relationship challenges solved and your jealousy questions answered right away.
Click here for more information about coaching with Susie and Otto Collins.
---
Where There's Smoke There's Fire: How To Tell If Your Man
Is A Cheating Liar
"If You Suspect Your Man Might Be Lying To You or Cheating On You – But You Just Can't Prove It Yet…" Then Here's How To Find Out For Sure
---
Relationship Trust Turnaround
If trust is an issue for you or your partner, here's how to rebuild trust in your relationship or marriage, even after an affair or infidelity.
This complete package of information has been carefully chosen to give you all the information and help you're going to need to start turning trust around and rebuilding your relationship right away.
Visit http://www.RelationshipTrustTurnaround.com
---
Are you considering leaving a relationship?
Should You Stay or Should You Go? is a book filled with compelling questions and insights to help you make that difficult relationship decision.
Visit the website for more information: http://www.StayorGo.com
Programs on Communication and Connection
500 Relationship Communication Tips & Secrets
If communication is frustrating with your spouse or partner and you find yourself repeatedly arguing over the same issues,here are 500 tips and shortcuts to make communicating easier and more open so that you can finally feel loved, appreciated and understood.
Visit 500 Communication Tips for more information: http://www.500communicationtips.com/
---
Magic Relationship Words
Over 100 magic words, phrases and sentence-starters to make sure you say it right every time to your partner, spouse or lover. If you are looking for better ways to express what you're feeling and thinking and want to learn how to interpret what your partner is saying more effectively, this will help.
Visit http://www.MagicRelationshipWords.com

---
Stop Talking on Eggshells
You'll learn how to talk with your partner (or anyone) without fear in this new step by step guide for communicating, connecting and getting the love you want. When you apply this new information, you'll feel more understood, loved and more connected than you ever thought possible.
Visit http://www.stoptalkingoneggshells.com

---
Red Hot Love Relationships
Whether you're 18, 80 or anywhere in between…here's how you can discover the secrets to creating a relationship filled with as much love, passion, intimacy, connection and incredible lovemaking as you want!
These 77 New Skills, Ideas and Strategies from Susie and Otto Collins will quickly and easily show you how to turn up the heat in your relationship both in (and out of) the bedroom.
To start creating more love, passion in your relationship now, http://www.redhotloverelationships.com
---
Automatic Attraction Secrets
Learn the simple steps for attracting and keeping the love you want.
For more information about Automatic Attraction Secrets, visit http://www.automaticattractionsecrets.com