Communication Tips Articles

How to Respond to Flirting and NOT Make it About Being Jealous
You're out with your partner at a party, club, or in another social setting. A person comes up to him or her and begins to flirt. You are irritated at first, but because your mate is not stopping the obvious (to you) overtures of this other person, your jealous feelings become inflamed.  This scenario is, unfortunately, all too common.
And, believe it or not, the way you choose to respond to such a situation can mean the difference between connection and distance in your relationship.
---

How the Stories You Tell Yourself Can Fan the Flames of Jealousy
So what are these "stories" and why do they "rule" our thoughts?
These "stories" are the thoughts that come up (usually from past experiences) that create elaborate plots about what may or may not actually be happening in "real life"–and they can quickly create jealousy and ruin your relationship.
---
How to Talk to Your Partner About Your Jealous Feelings, Facebook and Other Triggers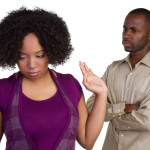 What triggers your jealousy? Is it the way your partner seems to look at or talk with others?
Is it your worrying mind that creates stories about what's going on when you and your love are away from one another?
Or is it an over-riding expectation that something, like infidelity, will tear you and your mate apart?
Whatever it is, chances are that you're having a tough time talking to your partner about it and here's some advice on how to start…
---
Communication Tips if Your Partner's Jealous

When you live with a jealous partner, you might be tempted to wear earplugs so that you don't have to hear his or her comments, questions and veiled allegations. It can be upsetting and uncomfortable to be wrongly accused by your mate of flirting or thinking inappropriately about another person– or something even worse!
We recommend that instead of tuning out and plugging up your ears– either symbolically or literally–you keep healthy communication going in your relationship. There are specific ways you can communicate with a jealous mate that can help ease and even stop the jealousy.
---