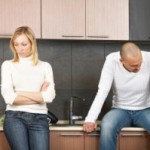 "I don't know what to do!!! My partner and I argue non-stop about his ex. He told me that she will always be a part of his life and he continues to text her and message her several times a week online. He claims he's doing nothing wrong, that he loves me and I should just 'get over it' and accept it. I don't want to lose him, but I can't stand how jealous I feel that she's still in his life like this."
Of all of the emails, Facebook messages and phone calls we get from people, exes are one of the most commonly cited reasons for jealousy and relationship conflict. Sometimes this is because a person feels inferior to her partner's ex. Even when there's zero contact between the person's partner and his ex, it can bring up doubts and worries. This can cause tension, disconnection and suspicion…even if there's nothing actually going on to warrant it.
And then there are the messier situations– as in the quote above– where there IS continued contact between the person's partner and his ex. If there is shared custody, there is a certain amount of regular communication and time spent together that occurs. Even if the two don't have a child together, they may have maintained a friendship and rely on one another for emotional support or turn to each other for advice on personal issues, career questions or home repair needs.
This can be confusing for all involved– especially the one watching these interactions who's concerned that there's more than just friendship going on.
Perhaps this is causing stress and heartache in your relationship too.